Next Level boasts an elite team of staff, offering a wide variety of expertise to meet the needs of our clients. We only work with the most qualified trainers in the area and maintain strict selection criteria. We believe a good trainer should possess more than just a certification, which is why we require additional qualifications in experience, technique, and client satisfaction for our team members.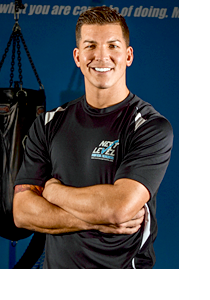 Mike Krug
BS, CSCS, ISSA, FMS
Owner/Lead Trainer

Mike has over twelve years of experience in the fitness industry as a successful personal trainer and fitness coach. Before opening Next Level in 2011, Mike held the position of head trainer at Achieve Fitness and World Gym for over five years. In addition to general fitness, Mike is a former competitive mixed martial artist, and he has trained in jui jitsu and mui tai for the past seven years. Ongoing continuing education has always been a top priority throughout Mike's career, and his training methods have steadily evolved to ensure he implements the most current and effective techniques with his clients. Mike studies under the best fitness trainers, strength coaches, and physical therapists in the nation, including Mike Boyle, Gray Cook, and Alwyn Cosgrove, among others. Incorporating core principles of safety, proper assessment and exercise progression, functional movement patterns, and innovative program design, Mike builds on each client's strengths and improves areas of weakness to deliver the best results. His expertise and integrity, combined with his kind personality and non-intimidating approach, have earned him many long-term clients and a reputation of success throughout the community.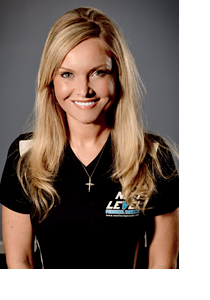 Paige Krug
MSPH, NCCPT, FMS, AFAA
Owner/Nutrition & Weight Loss Specialist

As an accomplished public health professional specializing in fitness and nutrition practices to improve overall health and prevent disease, Paige has more than fourteen years of training and experience in the health, wellness, and fitness field. After receiving her undergraduate degree from Appalachian State University in Health Promotion and Nutrition, Paige went on to complete her Master's degree in Public Health with a focus in Epidemiology at the University of South Carolina. After graduate school, Paige spent the next six years working for the Cabarrus Health Alliance, where she developed and managed multiple community health programs focusing on behavior modification in exercise and nutrition, worksite and church wellness programs, childhood obesity, health-related research, and the prevention of chronic diseases including heart disease, stroke, and type 2 diabetes. Paige is also a certified group fitness and kickboxing instructor with a deep-rooted passion for helping others improve their health, self-confidence, and overall quality of life. Paige is now applying her passion and skills at Next Level, where she serves as the Nutrition and Weight Loss Specialist and Director of Business Development.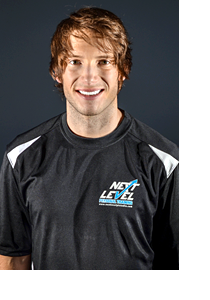 Andrew Grant
NASM CPT, TRX
CrossFit Level 1

Andrew has over 6 years of experience in the fitness industry as a certified personal trainer and group exercise instructor. With an upbeat attitude and the desire to see clients succeed, Andrew is able to work with clients ranging from 10-79 years old and see fantastic results. Andrew thrives on accountability and has his clients do the same while fostering a relationship conducive to success. With a background in endurance running and functional training he has pushed himself mentally and physically past barriers and helps clients do the same.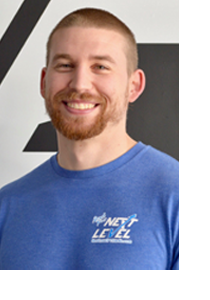 Michael A. Bolick
BS, ACE CPT, PN1

Michael graduated in 2012 with a Bachelor's degree in Psychology. This related knowledge and experience has boosted his fitness career. As a certified personal trainer with A.C.E. and a level 1 graduate of Precision Nutrition, he is able to guide clients on their optimal, individualized health journey. He thrives on personal health and seeing clients succeed. His background in a myriad of different sports and training courses has led him to overcome obstacles and allowed him to better relate to a diverse group of clients. With years of fitness experience, he looks forward to developing his overall health, as well as helping those around him to be the best they can be.
Jana Colgin
BA, ACSM CPT

Jana graduated Magna Cum Laude from UNCG in 2004 and became a Certified Personal Trainer with the American College of Sports Medicine in 2014. In addition to being a personal trainer at Next Level she is a professional acrobat with Circus Stella. Her background includes 10 years training as a competitive gymnast, and 15+ years performing acrobatics across the nation. She enjoys encouraging others and helping clients achieve their goals. Jana also coaches stretching techniques, aerial silk, and static trapeze. Pizza is her main weakness. She has a goofy personality and will probably try to convince you to learn to juggle.




Our Philosophy
Next Level Personal Training Studio was founded with the philosophy that every client deserves comprehensive, individualized programming, tailored to his/her specific goals and physical profile, in order to obtain the best results possible.

Next Level functions under a results-based business model. This means your success is our success! Our approach is to OVER DELIVER, and to make sure our clients know that their progress is our top priority. "Nobody cares how much you know until they know how much you care." Therefore we are committed to providing our services with sincere intentions of seeing our clients reach their goals.

We train with integrity and a genuine passion for improving our clients' health. Our training programs are designed using evidence-based best practices in the fitness industry. We believe that when it comes to personal health, people deserve to be guided honestly and through the safest means possible.

Unfortunately there is no magical pill, diet, piece of equipment, or other quick-fix method for dramatic weight loss. Gimmicks that promise "extreme results" that are "fast and easy" are exactly that, gimmicks. If you see something in the media or on late night infomercials that seems too good to be true, it probably is.

Our Personalized Process...
If you want to successfully change your body, in a safe way and with lasting results, the only effective way to do this is through making changes in your exercise and nutrition habits. However, the specific changes may be different for each individual based on many physiological, lifestyle, and other factors.
At Next Level, we work closely with our clients to formulate programs that target their individual needs in these areas. We employ only the most qualified trainers, who are both nationally certified and highly experienced, in order to provide our clients with the highest level of personalized fitness service. We also offer comprehensive nutrition and weight loss coaching programs by trained specialists.
Perform Better.